Bright side of Life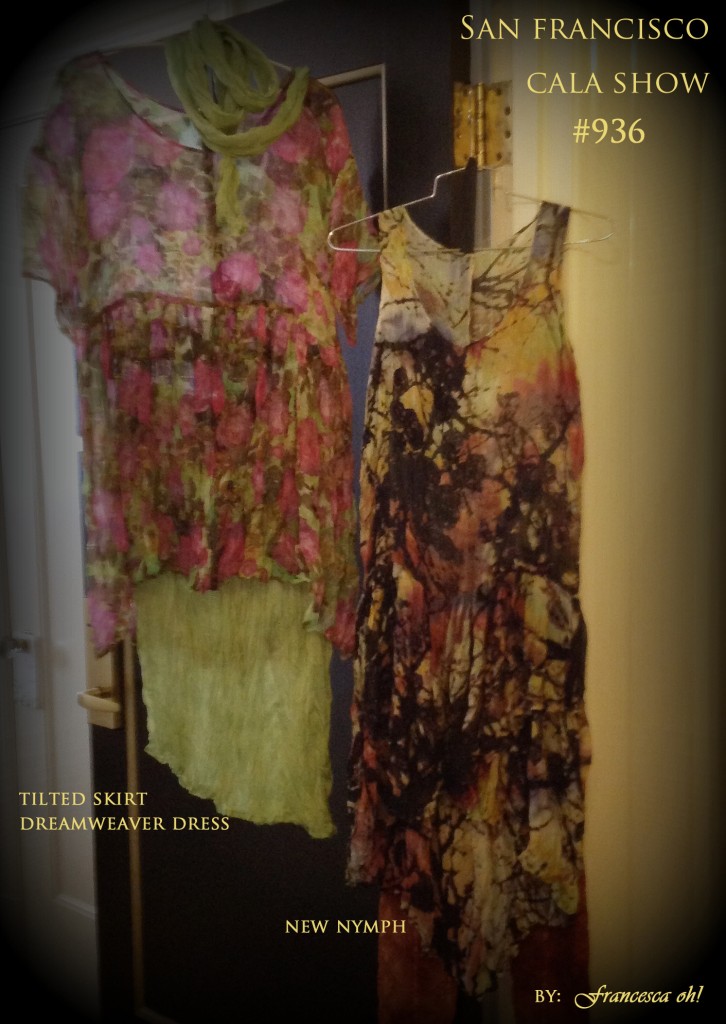 My friend Kari Samuels said that for 2014,  "April is a big month, that it is one of the most pivotal months in this whole entire year, that it would be dynamic with huge energy.  That it would be a THRILLER!"
And BOY she wasn't kidding.
The 1st of April I found myself at my mothers funeral wake, in an explosion of emotion with plenty of moments and opportunities to look into the past, the present and the future. April 2nd, I laid her to rest.  My mother, who I spent many wonderful hours listening to her stories while we sewed together.
By April 3rd, I was at home preparing the last details for my 1st apparel show in over 20 years, the San Francisco CALA show.  Thinking how funny it was, that even in death, my mother had great timing.  Allowing me 1 day prep before a big show.  Just enough time to ONLY pay attention to what was ABSOLUTELY necessary.  Smiling to myself and thinking, in a bittersweet way, that now she would always be with me and would support me in a way she never could before.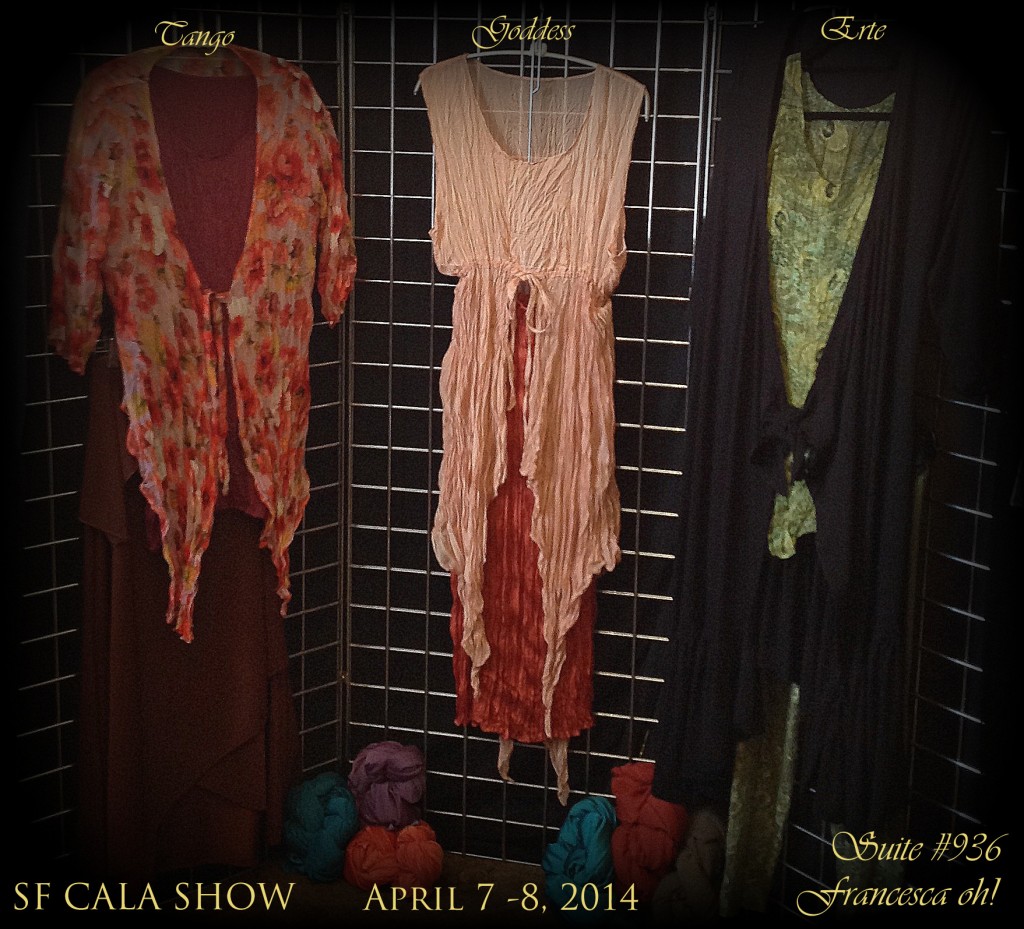 Friday at 6:30 am, I was off to the SF airport, kissing my husband and son goodbye as they headed off to catch their plane for New York, for my son's college tours.  I then headed back home to load my car for the show. By 4:30 pm, I found myself pulling into a truck filled loading zone on Union Square, in San Francisco.  Valerie and I  unload my rolling racks, three 6′ metal grids, 3 collections of clothing and miscellaneous display stuff. When I got back from parking the car, Cynthia Woong, my jeweler roommate arrived.  Somehow, we were able to shove everything and Valerie into the elevator. Eventually, we all ended up at suite #936 and we started to set up our displays.  To our surprise, all of this went amazingly smooth as did the next two days.
Now you are going to ask how was the show, and this is the "Bright Side of Life."   For me it was great!  It was actually great before it even started, because this event, was me finally making the decision to ride the wave of uncertainty with joy. It was fun, I made a lot of connections, got updated on what had happened in the industry while I was away raising my boys.  Memoirs of what I use to do and how I did things came back.  I was able to come up with new thoughts on what I wanted to do and how to do them.  I met some nice reps,  great new stores with really nice buyers.  I was even totally blown away with a cash and carry order for 6 of my Euro Country Urban ShirtSkirts! I don't think I have ever had that happen to me before or have had a buyer so excited to buy my designs.:)
But I can tell you, I have done shows like this before and finished with more orders and I never felt great.  I always felt disappointed because I didn't know how to see the "Bright Side."  I didn't ever really realize there were two sides of the coin and it was my choice to decide how I wanted to see my picture.
So if your April happens to be a roller coaster, and the ups and downs are filling you with dread and fear, you might think of trying to feel the THRILL of UNCERTAINTY with JOY and the ride just might be a little smoother.
Cheers!
Francesca oh!