Earth Element: The Inner Beauty of Daisy

"Wearing Happiness!"
Is this possible you ask, to wear HAPPINESS?
It is not only possible but is very doable and you can do it intentionally, if wish.
A desire to be HAPPY is a pretty universal thought and we are constantly looking OUTSIDE of ourselves for HAPPINESS. Examples of this include trying to wear what is the latest and greatest, or trying to look like the current sexy siren or the 'to die for' he man. The funny thing is that if we just took a moment to breathe and look at the beauty around us, so many of us instinctively would know that to find HAPPINESS we must look inside ourselves.
Then the question that comes to mind is "How to do it?"  My hope is to be able to explain how clothing, which is your most personal art form, can help you with this.
To start off, I'm going to do a quick recap of Five Element Fashion. Here it goes!
What is Five Element Fashion? Five Element Fashion is a direction in fashion that can help you discover your Inner Beauty through awareness of your body, your emotions, and your history.
How does it do this?  The first step is through UNDERSTANDING your body shape, the second step is to DISCOVER what resonates with it, and the third step is to FEEL it.
First Step: Have you met my Five Element Avatars and their stories? If you are just joining the party, I'd like to introduce them to you.  They are:
Daisy the Earth Element
Mala the Metal Element
Melissa the Water Element
Grace the Wood Element
Norma Jean the Fire Element
Now you can download all 5 stories by clicking on this link for "The Fashion 5."
Plus, if you haven't yet read my past post the "Groundedness of Gold," you may want to because this is the color that resonate with Daisy, whose story I am retelling today.
Even if you know her story, I would suggest you glance over it again with a set of GOLD colored lenses and see HOW Daisy wears HAPPINESS and how it shines through.
The Story of DAISY and the beauty of the Earth Element and how it is a tool that can help YOU see YOU and be happy with YOU.
I met Daisy a little over a decade ago.  She was in her mid-thirties, married, no children. I think she had a regular job but we never talked about it.  What we did talk about was her art work, because that was her passion and it made her shine.
Now Daisy had straight dishwater blond hair, she was kind of on the short side and most people would have thought a bit on the heavy side.  You see, this was the perception because the most defining feature about her body were her large hips and thighs. Daisy had the typical pear shape, narrow shoulders with wide hips. This was the 'to die for' shape during the Victorian era, but no such luck for Daisy in this day and age. She was ashamed of her large hips.  Everywhere she looked, magazines, stores, movies…. she saw clothes that did not cater to her shape. She couldn't relate with these images of beauty, so logically she concluded there must be something wrong with her. In her teens, twenties and early thirties she blamed herself for having large hips. This blame made her torture herself with various forms of malnutrition. Daisy was playing the clothing BLAME GAME.  It is very hard to be HAPPY if you are constantly blaming yourself.
The truth is in Five Element Fashion, her large hips are a key factor to Daisy's beauty. In Five Element Fashion, Daisy is an Earth Element. Someone who, in their natural state of well being, will radiate the feeling of balance, and warmth, very much like when we look at the color YELLOW. Earth Element people have a particularly close and intimate relationship  with Mother Earth.  They are naturally grounded people.  This grounding and connecting talent is one which can draw people and wonderful experiences to them.  They discover and experience their self-love in this space of being grounded, balanced and at one with, and connected with, the earth.
So how did Daisy stop playing the BLAME GAME? The first thing she did is she got tired of playing and decided it was time to look elsewhere.  She came to UNDERSTAND her self-talk wasn't playing NICE.  So she started to figure out ways to stop talking to it.
One of these ways was when she DISCOVERED her natural beauty as an Earth Element:  her large hips and thighs. When broken down into pure shape, Daisy's figure is that of a triangle.  The shape that resonates with the Earth. The triangular shape is not good or bad, it just is.  The base is wider than the top which gives it grounded stability that no other shapes has. This is a focal point to its unique beauty. When Daisy could embrace her triangular shape, she could FEEL at home with her body shape. She could now SEE her Beauty from within.   As a result, she became more relaxed with herself.  Daisy connected with the symbolic representation of her body's desire to have large hips. Her mind had a valid reason to stop blaming herself. She now had a physical picture of beauty to which she could relate.
Because Daisy could understand her physical connection to the earth, it allowed her to accept and eventually expand this aspect of her beautiful self. Instead of looking for things to hide her hips, she anticipated discovering things that would flatter her hips.  Good examples in my Classic Evolution Collection for clothing that will flatter the Hip Loving Babes are:  Belle Dress,  Belle Top, Modern Ballet and Belle Skirt with Bootie Scarf.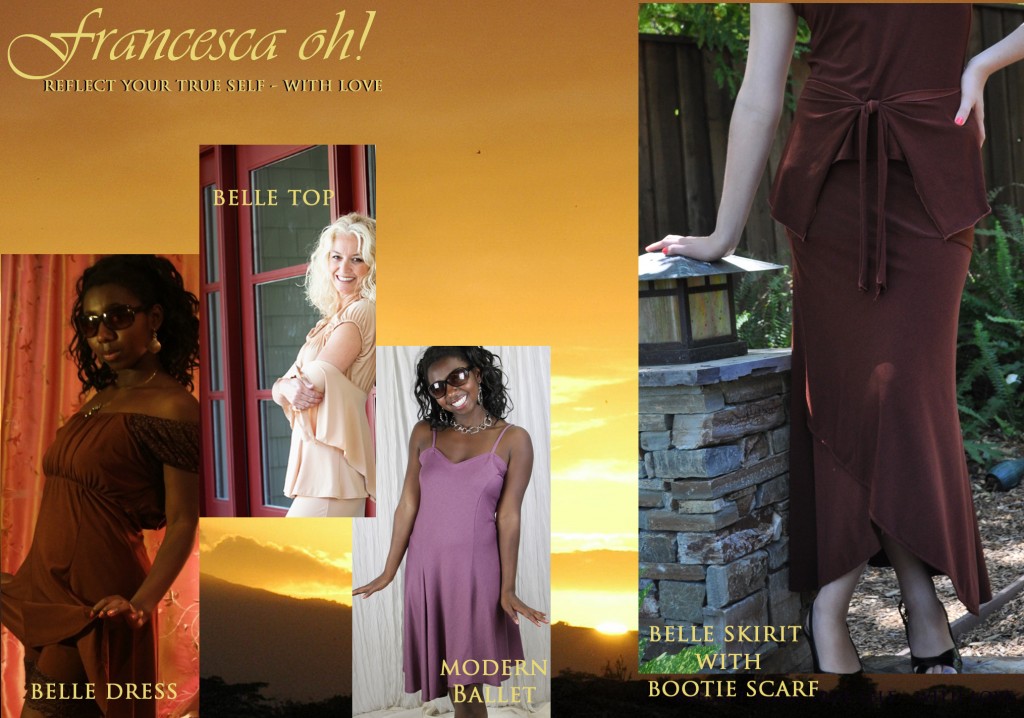 Is Daisy wearing HAPPINESS?  Last time we spoke, she was HAPPY with her body. Daisy now UNDERSTANDS her body and she is HAPPILY  in the never ending process of EVOLVING and  DISCOVERING.  For her compass, she is using how she FEELS in what she wears, NOT how she thinks others feel what she ought to wear. When she gets lost in worry, she knows she can find herself by wearing some gold (it kind of acts like sprinkling yourself with fairy dust) and she'll come right back to Earth, her home.
I hope you liked this post as much as I liked writing it and I hope Five Element Fashion has helped you in some way to connect with your Inner Beauty.
I would really love to hear what YOU FEEL about beauty.  Does it make you HAPPY? Do you have any personal Inner Beauty tips that helps you with HAPPINESS?  If you do, please share and leave a comment below, so all of us can have a better UNDERSTANDING of Inner Beauty.
And if you want to see more garments that will flatter an Earth Element silhouette and how the "Grounded Golds" resonate, visit me at Pinterest on my boards FOH/Fashion Hip Loving Babes and Grounded Golds.
Plus if you would like more information, LIKE my Francesca OH Facebook page so you can receive Inner Beauty tips in your Facebook news feed.
And remember, stay tuned for future Inner Beauty tele-seminars.  Can't wait to learn this new technology because then I will then be able to connect directly with you and we can have a LIVE Inner Beauty Q&A!
Last but not least, if you liked this post, LIKE it and SHARE it with a friend.
Ta Ta for now.  CLICK HERE to go visit me on Pinterest.
Cheers!
Francesca oh!