Five Element Fashion in Action

"How does Five Element Fashion look in ACTION?"
'm going to share how this works with my friend Nancy Mae.
To give you her quick bio, Nancy is an incredible Life Transition Coach and the founder of Energetic Fertility Method, EFM.  She is 5' 4″ tall, like all of us, she is  multi-faceted, multi-layered and has her own unique beauty.
I believe that Fashion is your most PERSONAL ART FORM and that it can reflect your INNER BEAUTY.   I asked Nancy, how she desired to reflect her INNER BEAUTY.
This is what she told me:
"My daughter likes to tell me,"You have a sporty style, mom,"  I love my sporty style and I need to rethink things a bit now that  I recently started my own business.  I want clothing that is comfortable and looks nice and also fits who I am as a person.  I like to have freedom to move and create and to be still and silent. …."
When I first met Nancy, I could see her dominant Element was WOOD.  Even though she was only 5′ 4″ tall, she had a long and lean frame.  But the other striking physical feature was her beautiful, broad, straight shoulder line.  This is the shoulder line of the "Warrior."  Nancy had a bit of the METAL physique which is reflected in her sporty style.  As we picked colors and fabric the flavors of Water, Earth and Fire also started to surface.
Now this may surprise you that dressing Nancy is a mixture of Elements, but that is only logical because everyone is made up of the 5 Element ORGANS:
Spleen for Earth
Lung for Metal
Kidney for Water
Liver for Wood
Heart for Fire
So naturally all of us possess each Element.  When it comes to clothing, it really is a question on how you want to bring out that Element and what you want it to say.
Sooooo what did we come up with?  To give you a snap shot, I've done a Five Element Fashion collage which gives you a glimpse into "How Five Element Fashion is in ACTION!"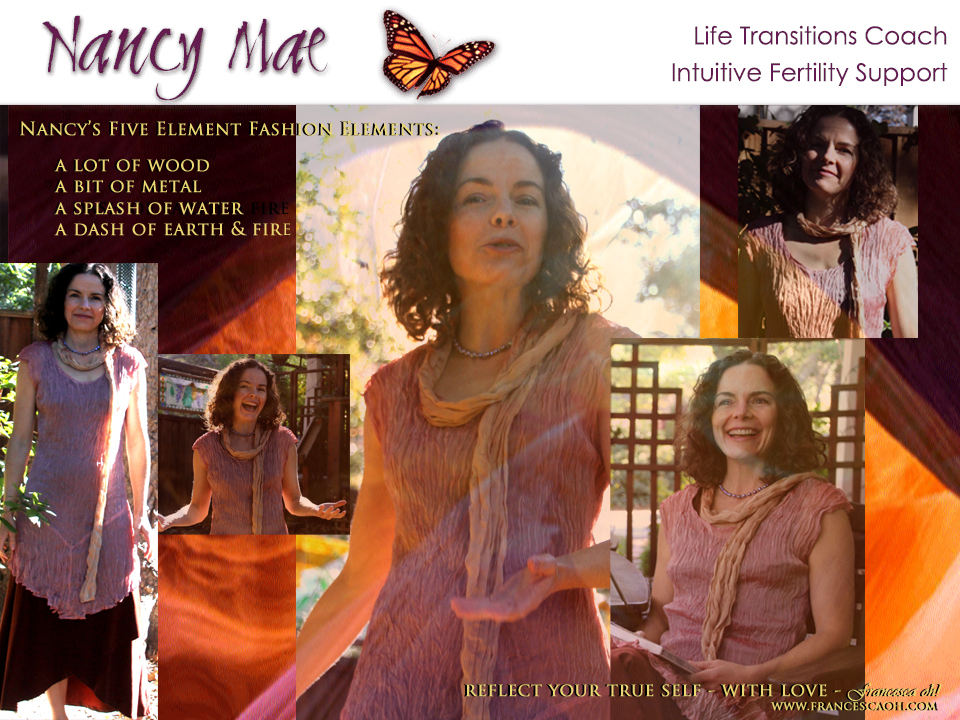 The Elfin Spirit Enlightenment Dress with the Classic Evolution Tie Tank and Belle Skirt is a great combination for Nancy, and this is why:
The Elfin Spirit Enlightenment Dress silhouette is very linear but it has a subtle curve that accents her feminine shape (WOOD). The texture gives expression to being organic, sensuous and serious (WOOD). The crinkle allows her the volume and flexibility for easy movement (WATER). The short length and Pale Pink color bring out a little passion and playfulness (FIRE).   The sheer chiffon is like the icing on a cake, it makes you want to Partay (FIRE)!
The Classic Evolution Tie Tank (which she is wearing as an under dress top) is the building block piece to Nancy's evolving style (ALL ELEMENTS).  The tank style accentuates the beauty of her Metal shoulders and the dark coloring and ties give the tank flair and flexibility.  Allowing her to decide if she wants to wear it sporty or dressy.
The Classic Evolution Belle Skirt is a fluid "A" line shape.  It flatters her hip line (ALL ELEMENTS).  The front wrap gives Nancy the freedom of movement (WATER).  The Sienna Brown color and longer length show an earthiness to her style (EARTH).
With this particular ensemble, Nancy's focus is to have clothing that not only looks nice and feels comfortable, but that expresses her unique Inner Beauty.  Which is a beautiful woman who is intelligent, serious, thoughtful, happy, creative, friendly, down to earth, fun loving, hopeful, helpful, contemplative, inspirational and so much more.
Do you know what your Element mix is?  If you don't know, are you curious? Would you like to play a simple easy Element game?
It goes like this.  Close your eyes and ask yourself, what am I most like, a rectangle, a triangle, a figure 8,  a T, a pear, am I large, am I small, am I round, am I square, do I feel like a rock, do I feel like a feather, do I feel like a bubble, do I feel buoyant, do I feel fluid, do I feel solid, these descriptive words can help you discover your Element mix.  Now….I know you are going to ask me "What do they mean?"
And I'm going to have to say…. "In order for me to answer, you have to share it in the comments below."  Sorry there is no other way unless you come to my February Valentine's Boutique.  Which would be totally AWESOME!
It has been so much fun to share my beautiful friend Nancy with you and to start to play the Element game.:-D
And just in case you want more help personally, I do offer designer services:
Dress-Up Partays! – Private and Group
Custom Upcycled Designs – ShirtSkirts, ShirtPants, Wedding Dresses oh my!
Inner Beauty Consultation – Stay tuned for NEW online teleseminars
Plus, I design 3 collections of clothing (Remember, not all of my designs are shown in the on-line store.  Sorry, this is another one of those you kind of have to talk to me to find out all my other secret goodies.)  But don't be shy because the good new is I have a 100% return policy within 7 days and FREE shipping both ways. REALLY, I've concluded that is the only way my clothing is going to find a happy home.:)  The collections are:
Classic Evolution – A line to help you build your truth, be your truth and own your truth
Upcycled Experience – My "Out of the Box" line, literally and figuratively
Spirit Enlightenment – My Mystical, Magical, Timeless Crinkle line
Sending you all much love.
Cheers!
Francesca oh!
P.S. If you want to know more about Nancy Mae and the Energetic Fertility Method, a modality to assist couples with fertility, you can visit her on her website at http://www.nancy-mae.com  If you go there, tell her I said Hi!