Francesca

About Francesca oh!
When I was three, I remember being undressed and told to lay as quiet as possible while the technician ran the EKG machine. The machine looked a lot like a monster with tentacle and suckers that were attached to my ankles, wrists and chest. I was always told if I laid very still they would have a good test and I wouldn't have to repeat it. I got very good at laying still.
Around the same time I remember begging my seamstress mother to let me watch her fit her customers. Again I applied my talent for sitting still.
These two early memories eventually lead me to understand who I am today, which is an Inner Beauty 5 Element Fashion Designer.
Early History
When I was six months old, the doctors told my parents I had a severe heart murmur and that they needed to be careful with my health. That translated into very regular lengthy doctor visits. As a result, I became very sensitive to how I felt in my body. The benefit to this was I worked on being a healthy child in order to limit my doctor visits. This practice fueled my interest in the healing arts.
I was born the 11th of 13 children, and one of the benefits from having so many brothers and sisters, is that my childhood was filled with playing, creating and lots of sewing. At 14 I thought I would become a fashion designer, so after high school I got my BFA from Otis Parsons School of Art and Design in Los Angles. One of my accomplishments during this time was to win the top design award as an exchange student to Parsons of New York during the fall semester.
My first job after school sent me oversees to design. One and a half years later I returned to San Francisco to design and in my mid 20's I started my own clothing company named Variance. I was in the category of San Francisco Up & Coming Young Designers and I was the first in the Bay Area to design Crinkle Silk. My designs were carried in Macy's, Nordstrom and specialty boutiques throughout the USA. In 1993 I closed up shop after my first son was born in order to raise my children full time.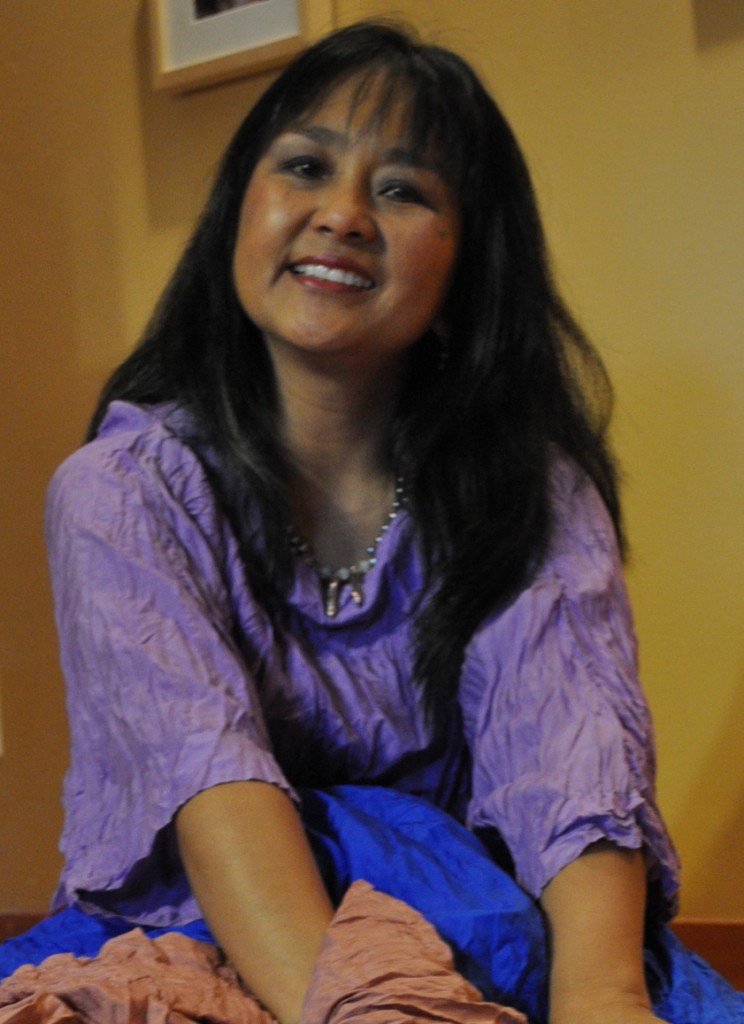 Discovering the Healer
Becoming a mom made me focus on health, healing and energy again.  I was very open to alternative healing methods and one day I stumble upon a Qigong class at the neighborhood gym. To my surprise the instructor started talking about the Chinese medical 5 Element Theory.   He said there were five major organs and each had a color it corresponded with. When I heard that, a light went on in my head. I suddenly understood the little glittering specks of color I would see floating in the air. I knew I had to find out more.
Consequently, I enrolled in the International Qigong Institute of San Jose and received a Masters of Medical Qigong (MMQ). Through my studies of Qigong I learned energy medicine. Energy was no longer a mystery to me. I understood what it was, why we have it and what it's telling us about ourselves. I also learned how to focus and utilize my energy to help.
My interest in energy healing didn't stop there. It led me to Psychic Horizons in San Francisco, where I learned Psychic Healing and I became a reverend of the Church on Natural Grace. This type of healing involves reading the pictures in your aura. Your aura is the energetic field that surrounds your physical self.  It is part of YOU, kind of like your energetic skin.  In this field are housed your experiences in picture form. In a state of meditation a Reader can see these pictures and translate the symbolic information of the pictures. I give the example that these pictures are similar to the symbolic pictures in your dreams, but with a Reader you are doing it at a conscious level. Just like dreams, these pictures have information for you. Consciousness allows you to process this information with more clarity.
Qigong and Psychic Healing gave me answers to many of my questions about the body self, the mental self and the inner self.   Questions like…
"Why do I have the body I have?"
"Why do I think the way I do, feel the way I do, respond the way I do?"
"How do I connect to what is inside of me and how does this help me?"
How I Help
For me, I believe "Clothing" is our most personal art form. It's an expression of self. This is why WE get so excited to find out what is new and to see what our friends are wearing. This is also why we can get so sad or angry in the dressing room and start participating in the "Self Blame Game."
Not too long ago most people made their clothes and when they made their clothes, they made them to FIT themselves. Life has changed; most people don't have to make their clothes. Consequently, clothing FIT can be an issue. When clothing doesn't FIT in look, size and feel, it can cause stress, frustration, lack of satisfaction……this list is endless.
So this is how I help.
I can help you see yourself from the inside out. I do this through the ancient Chinese medical 5 Element Theory. This is the theory that is taught in martial arts, acupuncture and the Dao. The question we address is "Who are YOU –  Metal, Water, Wood, Fire or Earth?" By Understanding this, you can choose clothing that FITS you. When clothing FITS who you are, you feel and look comfortable, confident, happy and beautiful because you are shining from your inner self.
What I offer
I offer Inner Beauty Designer Services that are created to help you see yourself from the inside and to reflect it outwardly. You have a beautiful body, just sometimes you need to connect the WHY so you can apply the HOW with HAPPINESS.
I also offer clothing and jewelry in all 5 Elements. These collections are designed to help you at an energetic level and to give you a platform to discover Your Inner Beauty.
Coming Full Circle
At age three my passions were lit up for me to see. Now in my 50's I'm able to clearly see why I have them and what path to take to make me happy. This is the path as an Inner Beauty 5 Element Fashion Designer. I'm a fashion designer that sees beauty from the inside out. I design with intent and my intent is to help you SHINE from the inside out – with Love.
Lots of Love
Francesca oh!