Getting Ready for Change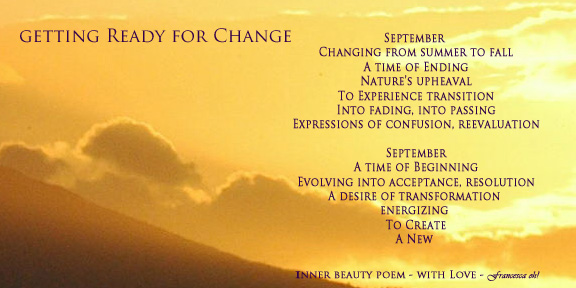 September is  a month of CHANGE.  It is a time of completion and starting a new.
Mother Nature orchestras this "Dance of Change," changing the weather, the light, what grows……
We follow suit, new Fall merchandise suddenly appear on the shelves, starting school, making new friends…….
At a global level, we all partake in this  "Dance of Change."
We can experience change at many different levels. Sometimes when the change is rough, it can be overwhelming and challenging.
So many NEW things can hit you from all directions, you can feel as if you are in overload.
If you happen to find yourself in this predicament, here are 3 Inner Beauty Secrets that can help.
 Know that you are NOT ALONE. It helps to know CHANGING is a community experience.  It is not an isolated experience. Every CHANGE effects someone, somewhere, somehow and this thought can bring you comfort and stability if you so choose.
 EMBRACE the CHANGE. This is easy to do when you see the change as fun and new.  It is not so easy when something is ending and makes you feel sad.  If this is the case, be okay with experiencing sadness.  It is a very beautiful emotion.
 Change with INTENT, not default. How you do this is to think about what you want and/or listen to your inner voice and  TAKE ACTION and MOVE in that direction.
If you want to start something new, September is a wonderful month to TAKE ACTION because CHANGE is in the air.
Are you getting ready for CHANGE?  Do you have experiences or insight you want to share?  I would love to know so leave them in the comments below.
Wishing you all a wonderful September CHANGE!
Cheers!
Francesca oh!
P.S.  Here is a sneak preview of my "Coming Soon" on-line catalog of Inner Beauty Gift Sachets for the Holidays!