How to Empower Yourself with Gold
"How to EMPOWER yourself with GOLD."
Have you ever felt the JOY of Autumn? The comforting excitement you feel as you watch the Autumn leaves turning, twirling and falling?
Moments like this make you want to take that beauty and capture it. You might snap a photo. You might caress a leaf.  Then take it home and press it between the pages of a book to preserve it for the future time.  And as you look at it, it will take you back to that feeling of joy and connectedness.
This is the POWER of the EARTH ELEMENT color YELLOW.  When you wear YELLOW, it has the power to ground you, to connect you to a  place of warmth and security.
Today I'm sharing with you YELLOW images I have collected, plus my Earth Element Grounded Gold poem.  They paint a small picture on how the EARTH ELEMENT color YELLOW  can help you.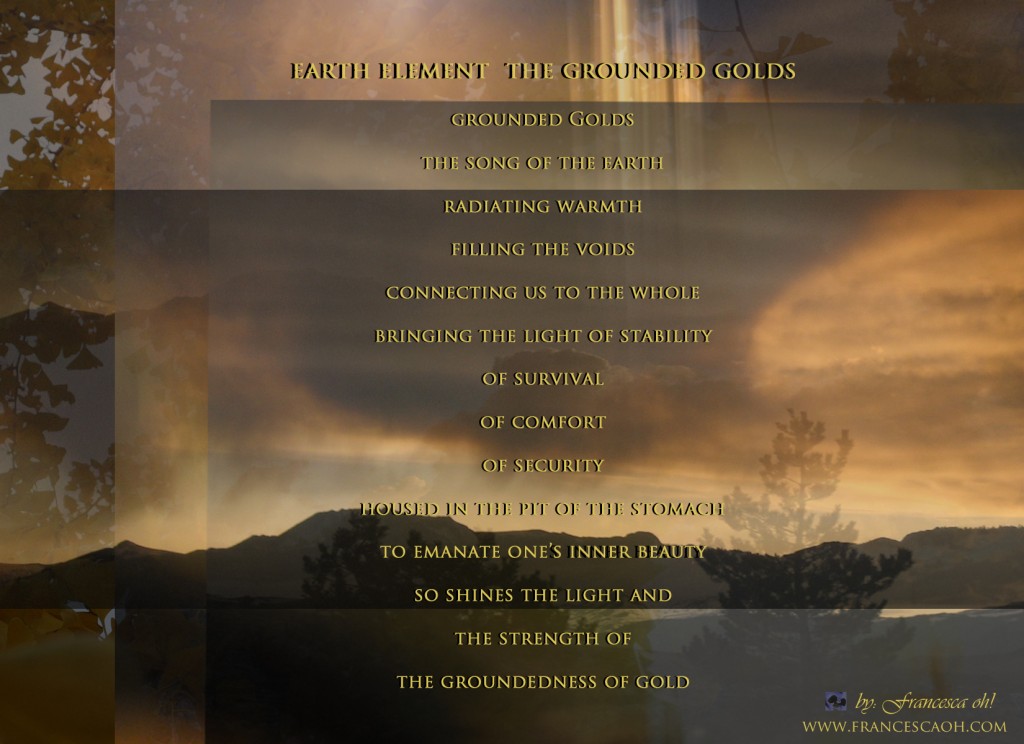 The golden colors of the autumn yellows are the colors  of the Earth Element.  This is the color that grounds you.  It can help you when you need protection. This is one of the reasons Buddhist monks wear this color. Like the sun, the YELLOWS emanate  a feeling of warmth, of comfort, of security. As a result, it can bring you back to a place that feels like home.  It is the color which greets, it welcomes, it sings the word HELLO.  It is the glorious color that connects you to the world around you.
As an artist and designer I love COLORS and  I'm so excited to be able to share my color passion with you.  Colors can be magical and have an incredible power to heal and change our moods.
So when you are lonely, insecure, or feeling you are  not connected with the world, wear some YELLOW to brighten your spirit and shine.
To help you visually experience the POWER of the Groundedness of Gold, you can see amazing images that pinners have shared on Pinterest.  I've collected them on my "Ground Gold" Pinterest board.
But before you go………… I would LOVE to to hear how the  Autumn Yellows make you feel.  If you feel inspired to SHARE, leave a comment in the space below.
Ta Ta for now
Cheers!
Francesca oh!
CLICK HERE to go to my "Grounded Gold" Pinterest board.

To receive FREE weekly Oh! Five Element Fashion Thought and 10% gift off 1st order,
leave your email and join Francesca oh!