Testimonials

Fashion is our most PERSONAL ART FORM.
What's your fashionista Art?
♥♥♥Moving around and high energy best describes me,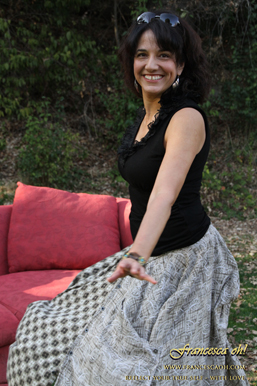 so when I first saw Francesa oh!'s skirts, I saw movement and that's what captured me. Wearing her skirts makes me feel like I'm dancing throughout my day… they swirl around me and comfortably  hang out waiting for the next "dance" in between activities. I feel absolutely feminine and fun in her skirts. My youngest son thinks I'm "different" when I wear my skirts by Francesca. I think it's because whenever I wear her clothing, I start my days with more anticipation of surprise encounters and a lightness of being.
I'm sure I'll make new friends from her clothing, because, invariably, I'm approached by a woman who says, "Wow, I just love your skirt, where did you get it?" I enjoy telling them that they're designed by Francesca oh!  She recycles men's shirts to make them,  and I show them the draping and pockets.  Of course, just for fun, I always throw in a random comment about the men whose shirts I'm now wearing, though I haven't a clue who they are!  There's just something about wearing men's shirts that brings out the "saucy" in any woman, isn't there?
Teresa Acosta
Owner and CEO of Acosta Agency, Online Marketing Services http://www.acostaagency.com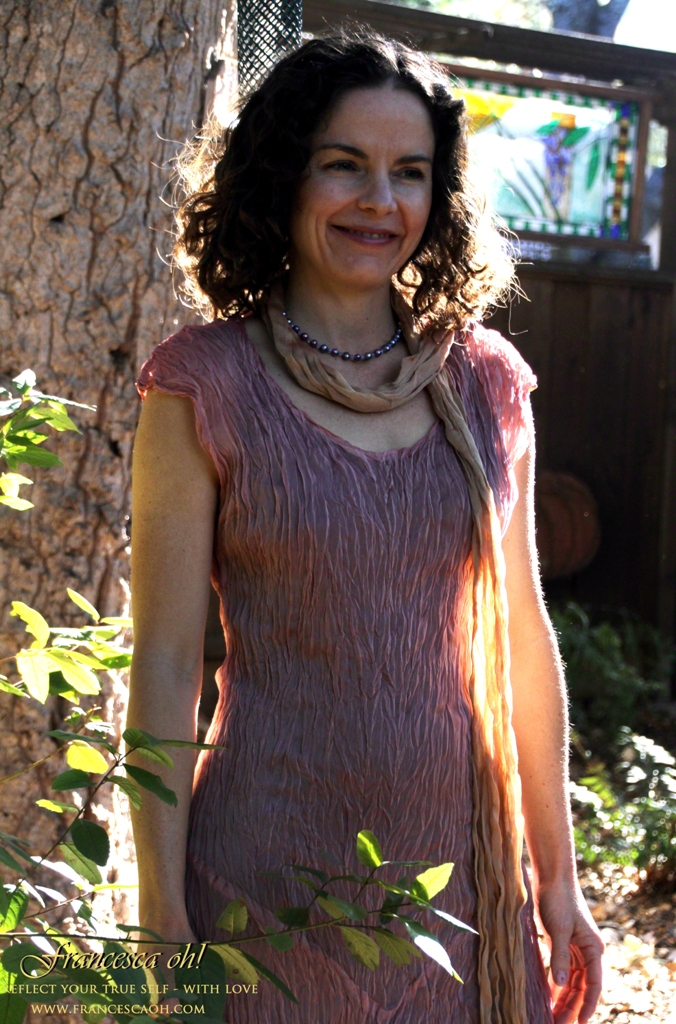 ♥♥♥"You have a sporty style, mom," my daughter likes to tell me.  I love my sporty style and had to rethink things a bit when I recently started my own business.  I was looking for clothing that was comfortable and looked nice and also fit who I was as a person.  I like to have freedom to move and create and to be still and silent.  When I discovered Francesca oh!'s clothing I was in love!  The first time she walked me through the three distinct styles she designs I was in awe.  The lines and attention to detail was amazing!  When I'm wearing the clothing, I feel so BEAUTIFUL!  There is a synergy between the clothing and me and it shows in the way the garments flow and almost dance on my body.  There is an earthiness and playfulness to the clothing that fits both my quiet, contemplative side and my movement-oriented, fun-loving side.  I'm so grateful to have found this amazing designer!
Namaste!
Nancy Mae
Transition Coach and founder of the Energetic Fertility Method™ (EFM) http://www.nancy-mae.com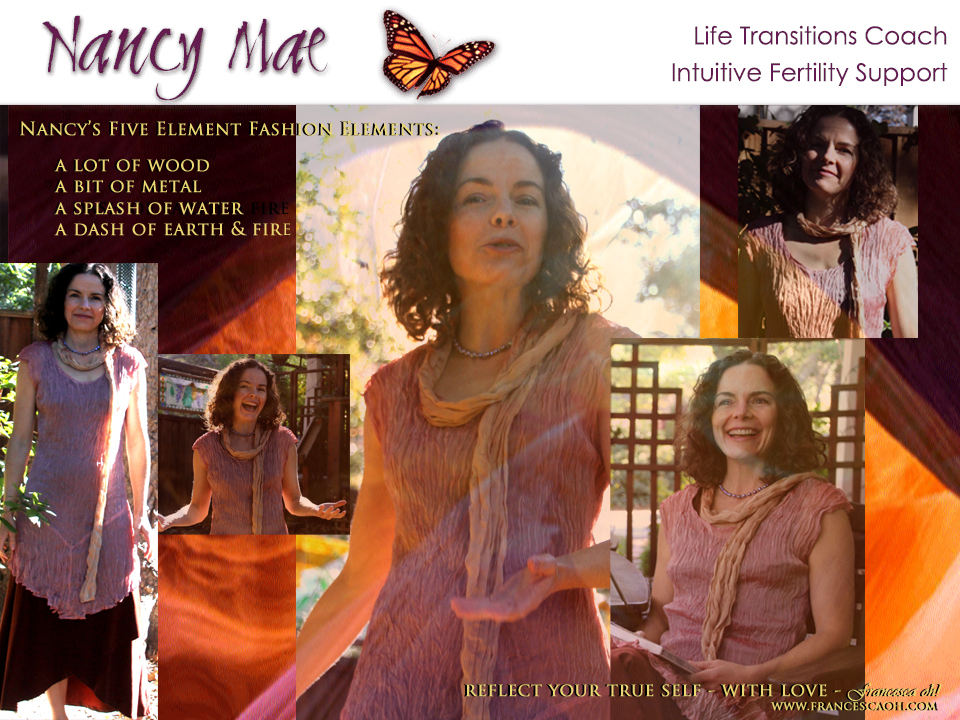 Nancy's Element is a lot of Wood with some Metal a splash of Water and a dash of Earth and Fire. The Wood Element is reflected in an overall feeling of her long and lean shape. The Metal Element comes out in her broad shoulders and natural muscle tone.  This is reflected in her sporty style.  The Water, Earth and Fire are reflected subtly in her overall ambiance.
The Elfin Spirit Enlightenment Dress with the Classic Evolution Tie Tank and Belle Skirt is a great combination for Nancy, and this is why:
The Elfin Spirit Enlightenment Dress silhouette is very linear but it has a subtle curve that accents her feminine shape (WOOD).   The texture gives expression to being organic, sensuous and serious (WOOD). The crinkle allows her the flexibility of movement (WATER).  The short length and Pale Pink color bring out a little passion and playfulness (FIRE). The sheer chiffon is like the icing on a cake, it makes you want to Partay (FIRE)!
The Classic Evolution Tie Tank is the building block piece to Nancy's evolving style (ALL ELEMENTS).  The tank style accentuates the beauty of her Metal shoulders and the dark coloring and ties give the tank flair and flexibility.  Allowing her to decide if she wants to wear it sporty or dressy.
The Classic Evolution Belle Skirt is a fluid "A" line shape.  It flatters her hip line (All ELEMENTS).  The front wrap gives Nancy the freedom of movement (WATER).  The Sienna Brown color and longer length show an earthiness to her style (EARTH)
Thanks Nancy for playing Dress-Up, it was so much fun to help you create your pallet of clothing.
Sending you all much gratitude.
Cheers!
Francesca oh!