Taking Risks, a Reflection of Inner Beauty
Today's Inner Beauty Thought  is……..
Taking Risks!:-D
Did you know that "Taking Risks'" can bring out the inner beauty in you?
How is that possible you ask?
Well….when you are experiencing an  Unpredictable event, and are in that moment of Surprise….
You can connect spontaneously to being Proactive and Passionate about Life.
When you connect and call upon the Passion in Life, you shine with your Inner Beauty.
Now you might be wanting to ask me the, "How To"  with all of this.
Well….how about I tell you a story about an Unpredictable event.
Wayyyyy back when I was 20 something, I was in my clothing factory happily pressing away the creases in some new garment.  Suddenly I heard a very faint creaking noise.  I looked down to my left where there was a rack full of clothes, at the bottom of the clothes, on the floor, were a pair of size 13 white sneakers.
I thought, "Hmm those sneakers are too big for my husband, or anyone on this floor (because we were all women)  and most certainly too big for Rick (my friend downstairs).  Of course the logical answer I told myself was, "The sneakers belong to….a stranger."
To say the least, I was shocked and Surprised to see an unknown pair of very large sneakers a stone's throw away from me.  I quickly thought, "Okay, okay I have 2 choice, I could sit here hiding and wait for the other shoe to drop, or I could Take Action, be Proactive and see who is inside of these sneakers.
I took a quick breath and I decided the latter.
I also decided that more than likely, whoever owned those shoes probably wouldn't want me to scare them.  So I stood up tall, all 4′ 11" of me,  walked quickly around my rack, and announced, "Rick! Rick! What are you doing behind my rack?
I said,"You're not Rick?"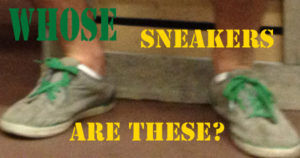 Of course, he was in an Unpredictable event at a moment of Surprise and at a loss for words.  So there was a short pregnant pause before he took a breath and launched into his, "Got lost,  I'm a messenger" story.
I smiled and agreed with his story and I thought, "Oh my, he is just a boy and he is just as scared as me."  I escorted him to the door and nodded as he told me his story, until he elaborated a little too much……at which point I glared at him and he quickly made his story more believable.
I said "Goodbye,"  closed my door and thought, "Wow, that was a bit scary and a bit unnerving, but I'm really glad I faced my fear.
Now you don't have to risk an intruder to experience shining your Inner Beauty when "Taking Risks."
The "How To," is using the mind for helping you evaluate the situation from a place of flexibility and neutrality, then call upon your inner creative, spontaneous, strength and this Passion is the Inner Beauty that will support you and make you shine. 🙂
Ta Ta for now.
Francesca oh!